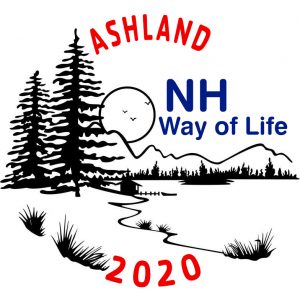 2021 Fireworks: July 3
2021 Fireworks Rain Date: July 5
2021 Parade, Pancake Breakfast: July 4
2020 Theme: NH Way of Life
Grand Marshall: Ron Shaw
Mary Ruell Award: Mark Liebert     
2020 July 3rd & 4th Festivities
Due to the Covid-19 pandemic, the Ashland Selectmen and the 4th of July Committee have reluctantly agreed to postpone this year's July 3rd & 4th Celebrations.
Like you, we, the 4th of July Committee, are disappointed that our community will be unable to celebrate Independence Day as we have for the last 59 years. We will celebrate at home with our families and we encourage you to celebrate responsibly and show your patriotism around your house.
Buttons
The committee plans items in advance, and we had our buttons for this year ordered before the pandemic occurred. Buttons will be distributed through the school to families with children in school, to residents of the Common Man Commons, as well as residents of the Highland Street Apartments. Several people collect these buttons year after year and we would like to get you your 2020 button. If you would like a button, send an email to julyfourth@ashland.nh.gov or contact Deb at 603-254-5788 and we will arrange to get your button to you.
Award Recipients 
We would also like to take this time to recognize the 2020 Mary Ruell Award Recipient, Mark Liebert, and the 2020 Grand Marshall, Ron Shaw.
Support (Future) Fireworks 
The fireworks display for Ashland are sponsored through generous donations from area businesses and residents like you. If you would like to help sponsor next year's event to help make it bigger than ever, you can mail a check to 4th of July Committee, PO Box 517, Ashland, NH 03217, Attn: Fireworks, by donating in one of the canisters around town, or by contacting a committee member.
Thank you for your support! We can't wait to celebrate with you next year!
Contact: julyfourth@ashland.nh.gov
MEETINGS
The Ashland 4th of July Committee meets the fourth Wednesday of the month, at the Ashland Booster Club. Meeting dates may change or additional meetings be added as necessary. Consult the Calendar for actual dates.
MINUTES of the 4th of July Committee
2020 Minutes
November 18, 2020      October 28, 2020           September 23, 2020
August 26, 2020            June 24, 2020                 May 27, 2020
May 13, 2020                 April 22, 2020                  April 15, 2020
March 25, 2020             February 19, 2020           January 22, 2020

2019 Minutes
2019 4th of July Theme: "Peace, Love & the 4th of July"
Fireworks: July 3, 2019
Grand Marshall: Art Harriman
Mary Ruell Award: The Elliot Family (Bob Elliot and Terry Comeau)
November 20, 2019     October 23, 2019
September 25, 2019     August 28, 2019           July 24, 2019
June 11, 2019                May 22, 2019                 April 24, 2019
March 27, 2019            February 20, 2019        January 23, 2019
2018 Minutes
2018 4th of July Theme: "Celebrating 150 Years"
Mary Ruell Award for 2018 — Kathy and Steve Jaquith
Grand Marshall for the Parade — Ernie Paquette
November 28, 2018     October 24, 2018          September 26, 2018
August 22, 2018            July 11, 2018                 June 13, 2018
May 23, 2018                 May 9, 2018                   April 11, 2018
March 14, 2018             February 21, 2018        January 10, 2018
2017 Minutes
November 8, 2017         October 11, 2017          September 13, 2017
August 14, 2017              June 12, 2017               May 8, 2017
April 10, 2017                 March 21, 2017            January 9, 2017
2016 Minutes
November 14, 2016        September 12, 2016